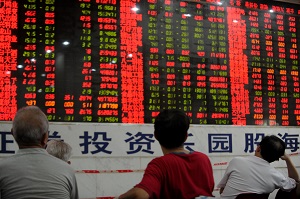 (27 April 2015)
China's stock markets continued their stunning rally yesterday as investors reacted to the government's intention to launch its own QE program of buying assets in order to boost its slowing economy. The Shanghai Stock Exchange Index has doubled in value since November and now stands at 4500. The huge rally is the result of several factors including the electronic linking of the Hong Kong and Shanghai stock exchanges, the expectation that the People's Bank of China (PBOC) will undertake an even larger quantitative easing program as well as more relaxed margin rules that allow more investors to borrow money to buy shares.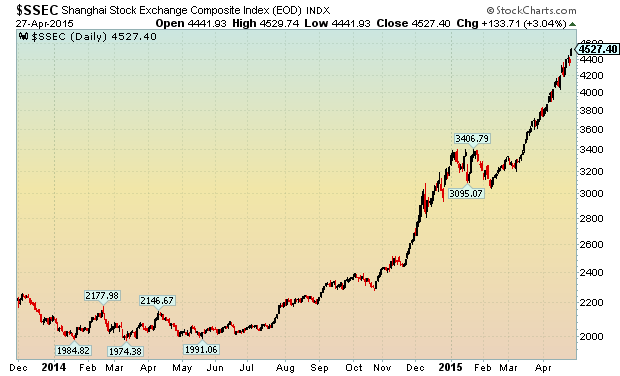 Astrology offers its own account for this rapid rise in Chinese stocks. As is often the case, the planet Jupiter is pivotal in most bull market situations. Jupiter is the planet of optimism and expansion and when it is activated in a natal chart by transit, we can see that stocks tend to rise. The Shanghai Stock Exchange was opened -- or rather re-opened -- on December 19, 1990 at 9.30 a.m. This horoscope places Jupiter at 19 degrees of sidereal Cancer in the 7th house. Is it a coincidence that bullish Jupiter is again sitting at 19 degrees of Cancer now after stationing at 18 Cancer just three weeks ago? Probably not.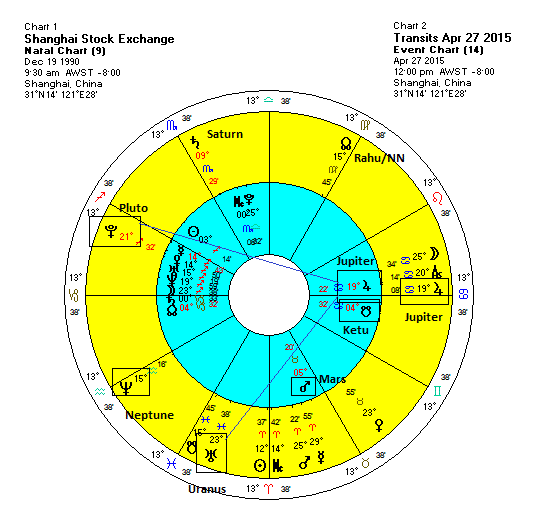 Jupiter returns to its natal position every 12 years so this whole period around the transit conjunction was bound to be positive. This is even more the case since Jupiter is in the 7th house and therefore it aspects its Ascendant. Jupiter's 13-month long transit through the sign of Cancer is a positive influence for sentiment in the stock market, all other things being equal.
Of course, we can't explain this rally solely in terms of the motion of one planet. We can see that the ongoing Uranus-Pluto square may also have played a role in the rise. At the time of the major acceleration of stock prices in November, Uranus (19 Pisces) and Pluto (18 Sagittarius) were both in tight alignment with Jupiter (19 Cancer). Although nominally neutral in themselves, these planets likely became a powerful amplifier for Jupiter's natal energies during the 8-month period they were in alignment.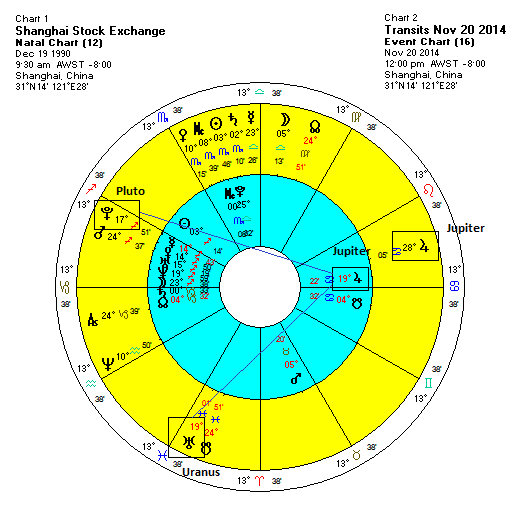 We can trace the rally back to approximately August 1st when the Shanghai Index finally broke above technical resistance at 2200 slowly started to climb. At this time, Uranus and Pluto were a few degrees out of alignment with Jupiter. Due to retrograde motion, both planets would then move back towards Jupiter and line up almost exactly at the time of the parabolic rally that began in November and continues up until today.
In August, transiting Jupiter (13 Cancer) was moving deeper into Cancer (from Gemini) and was therefore influencing the 1st house in a increasingly positive way and it approached its natal position. I would argue that the combined effects of all three transiting planets were necessary (but admittedly not sufficient) reasons for the Chinese stock market to escape its previous doldrums.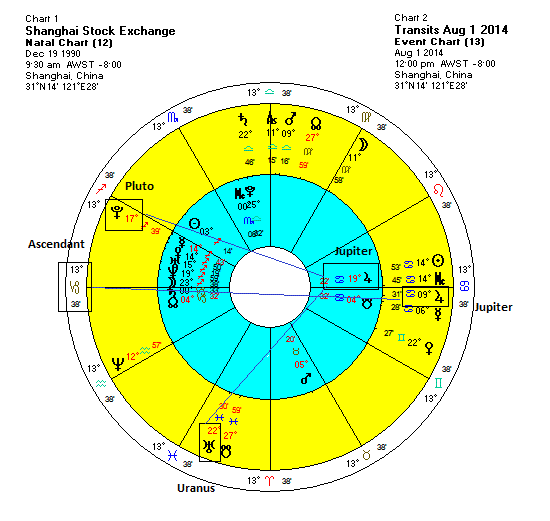 So what does the future hold for Chinese stocks? We can see that there is the potential for some weakness ahead which could mark a significant break with this rally. Uranus (25 Pisces) is moving further away from its alignment with Jupiter so that is a diminishing influence. Jupiter itself is also moving away from its conjunction with its natal placement. It is possible we could see further gains as long as it remains in the sign of Cancer until July although the picture is complicated by the retrograde motion of Saturn.
Saturn is the planet of pessimism and when it is prominent, stocks tend to fall. Saturn turned retrograde in March at 10 degrees of Scorpio and it will closely oppose the natal Mars (5 Taurus) in the Shanghai Exchange chart over the next several months. Its station at 4 Scorpio in July and August will exactly aspect Ketu (South Node). This tends to be a more problematic influence, especially if Jupiter is not present to offset any Saturnian negativity. While there is a good case for Chinese stocks to move higher in the medium term into 2016, I suspect these nearer term influences will bring about a major correction first. The Mars-Saturn opposition in mid-May is likely to correspond with some weakness, as is the Saturn-Pluto alignment in the summer.
Weekly Financial Markets Update
US stocks generally rose last week as the latest housing data and corporate earnings fueled enticed buyers. The Dow climbed 1% on the week closing at 18,080. Indian stocks fell, however, as the rebound in oil prices was seen as inflationary. The BSE-Sensex tumbled 1000 points on the week and finished at 27,437. I had suggested the week as a whole could be mixed but noted the bearish potential of the Mercury-Mars conjunction. This hit the Indian market particularly hard since it aligned with several natal planets in the NSE horoscope.
This week has also started off mixed as US and Indian markets have fallen while European and Chinese markets have enjoyed strong gains. Transits are decidedly not a 'one-size-fits-all' proposition since they hit the various exchange horoscopes in different ways. That said, Saturn forms a 135 degree angle with Uranus through the week so that could be a general source of tension and possible selling. Venus aligns with Mars through most of the week and that also may be a questionable influence where gains may be harder to come by.