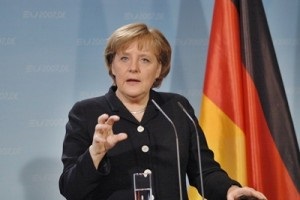 (14 March 2016)
German Chancellor Angela Merkel and her CDU party suffered major losses in Sunday's state elections as voters weighed in on the refugee crisis. German voters moved away from Merkel's open-door policy and awarded large gains to the right-wing anti-immigrant AfD party (Alternative for Germany) in three states. This electoral shift will force the mainstream CDU and SPD parties to seek new and less stable alliances with smaller parties. Recent polls show that up to 80% of German people now oppose Merkel's policy and most want to stop the influx of refugees from the Middle East. Merkel has vowed to continue her more liberal approach despite his most strnging rebuke at the ballot box.
We can see how Merkel's horoscope is currently under heavy affliction by Saturn, the planet of loss, frustration and disappointment. Transiting Saturn sits at 22 degrees of sidereal Scorpio just ahead of its retrograde station on 25th March. Ms. Merkel's Ascendant is just a couple of degrees away at 20 Scorpio. The unusually slow velocity of Saturn ahead of its station makes this Saturn transit even more burdensome than would otherwise by the case. Saturn-to-Ascendant transits are classic indicators of defeats and setbacks of all kinds. Fortunately, they only happen once every 29 years.
The other problem with this Saturn transit is that it exactly aspects her Moon (22 Capricorn) by full-strength 3rd house (sextile) aspect. Saturn-to-Moon transits typically coincide with times of disappointment and sadness, especially in this case where the aspect is near-exact and Saturn stations retrograde on the same degree. So this is a double dose of Saturn to the two most sensitive points in the chart, the Ascendant and the Moon. It's very hard to win elections under these kinds of planetary influences.
Saturn transits are not always so difficult, however. Sometimes these Saturn transits can coincide with events that suggest a constructive fulfillment of responsibility and even major life achievement. And this may well be the case in Merkel's own mind as she stubbornly sticks with this policy despite all the opposition. To determine if such Saturn transits are going to bring about negative life outcomes we need to look at: 1) the role of Saturn in her natal chart and 2) other current transit hits to her natal chart. Saturn occupies the 12th house of loss in her natal chart so all that negative energy of Saturn is brought forth to the Ascendant at this time. If Merkel had been born with Saturn in the 10th or 11th house, it is possible this Saturn transit to her Ascendant might not have been so bad.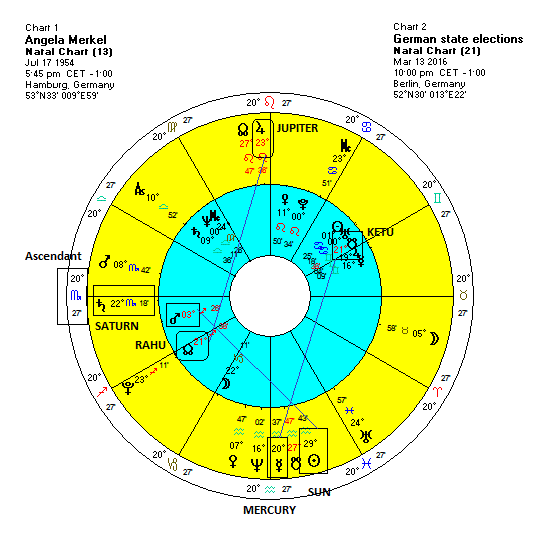 Other chart factors did not look good on election day. Transiting Mercury (20 Aquarius) was under the destabilizing influence of an aspect from Ketu (21 Gemini) while the transiting Sun (29 Aquarius) was under close square aspect from Mars (3 Sagittarius). We might have thought Merkel could have got more of a boost from the transiting Jupiter (23 Leo) in the 10th house but even there, Jupiter was arguably weakened and its aims distorted by the close aspect from natal Rahu (21 Sagittarius). Jupiter in the 10th house can bring prominence and status but in this case, for all the wrong reasons thanks to its Rahu-influenced weakness in addition to the Saturn transits.
A growing number of voices are calling for Merkel's resignation as she is increasingly seen as politically toxic to her CDU party. I do not have a strong opinion on whether she will resign before the next election in October 2017. I do see that the transits for this fall do not look good, however. At that time, transiting Saturn will come back to its current position at 21-22 Scorpio (after completing its retrograde cycle) and will therefore simultaneously afflict the Ascendant and Moon all over again. Even worse, this time transiting Rahu will sit on the equal 10th house cusp suggesting 'interruptions to status'.
And just to top it all off, transiting Rahu will be in aspect with natal Rahu with just a few degrees from June to November. Whether she actually resigns is hard to say but certainly this period looks even worse for her. No doubt much of the pressure will come from the Brexit which I expect to occur after the June referendum. With the very survival of the EU at stake after the departure of the UK, it seems unlikely that Merkel would leave in such as crisis-laden environment.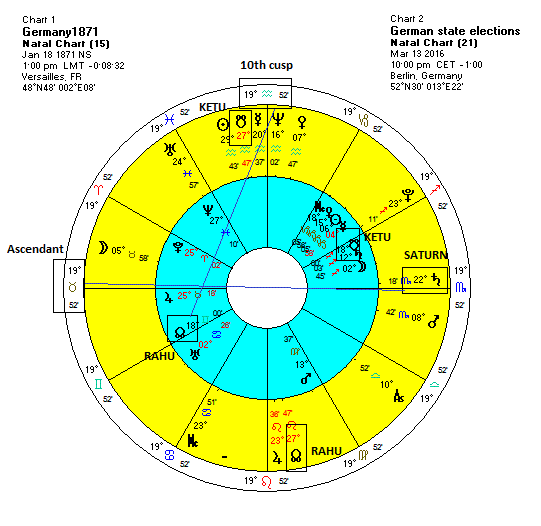 Interestingly, we can see how these transits are also hitting the Germany 1871 horoscope. The chart has an Ascendant of 19 Taurus so the Saturn station hits the 7th house cusp within three degrees and thereby afflicts the Ascendant (the nation as a whole). All the potential benefits of transiting Jupiter (23 Leo) are weakened and distorted by virtue of the influence of natal Ketu (18 Sagittarius). As Rahu/Ketu move closer to the equal house cusps of the 10th (19 Aquarius) and 4th (19 Leo) houses in the summer, Germany's problems will likely worsen. Saturn will still be afflicting the Ascendant and aspecting the natal Venus (happiness, income) by sextile/3rd house aspect. The conjunction of Rahu to the 10th house could make governing much more difficult. Merkel and Germany are therefore both going to be hit hard by these combined Saturn and Rahu/Ketu influences for most of 2016.


Weekly Market Forecast
Stocks drifted higher last week after the European Central Bank moved further into the never-never land of negative interest rates in its latest attempt to conjure some growth out of that limp and stagnant economy. In New York, the Dow gained more than 1% to 17,312. Indian stocks rose modestly as the BSE-Sensex finished the week at 24,717. In last week's
market forecast
, I thought we might have seen a little more downside, especially in the wake of the solar eclipse, but buyers generally had the last word.
This week has started off mixed as Asians and European markets were generally positive while the US are now trading modestly in the red at the time of writing. Gold and oil are also down in Monday trading. The Mars-Venus square is the most likely culprit for this selling although it seems that the Jupiter-Pluto aspect may be offering some planetary support to the market here. Mercury is in opposition aspect with Jupiter on Tuesday so that might give stocks another small boost. Fed Chair Janet Yellen are due to make their latest policy announcement on Wednesday afternoon. Mercury conjoins Ketu (South Lunar Node) at that time, so we could see some surprises arise that day which create uncertainty as Mercury's rationality is undermined and redirected by the intuition of Ketu.
For more details and analysis on market trends for this week, this month and this year, please check out my weekly
MVA Investor Newsletter
. The newsletter includes discussion of US and Indian stock markets, as well as gold, oil and major currencies.