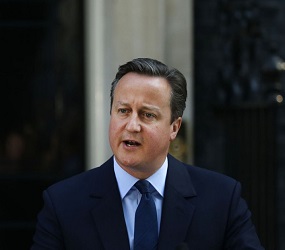 (27 June 2016)
Global financial markets are reeling for a second straight session following the surprising Brexit outcome in last week's UK referendum. The choice to leave the EU shocked markets which had pushed up stock prices ahead of the vote on the expectation that the Remain side would prevail. The Brexit vote defeat compelled Prime Minister David Cameron to tender his resignation effective within three months.
The Leave victory was in keeping with my expectation for increased level of sudden or shocking events in late June due to two very tense planetary placements. As I had written back in February when the
EU referendum date
was first announced, the fact that the vote would be held on the very same day that Uranus entered the sign of sidereal Aries greatly increased the likelihood for a Leave win. Uranus is the planet associated with notions of independence, freedom and rebellion and when it changes signs once every 7 years, it often correlates with events which exhibit these qualities. The fact that the Uranus sign change would be happening just a week before Mars stationed direct and formed a close alignment with Uranus only added to the level of instability and potential for shocking outcomes.
My analyses of several key charts also seemed to support the notion that the UK would vote to Leave. The
EU Maastricht Treaty chart
(1993) is very afflicted and indicates that a very disturbing and injurious event to the EU would be taking place.
David Cameron's own horoscope
also looked quite troubled, as did the
UK national horoscope
.
The murder of Labour MP Jo Cox a week before the referendum was also an expression of this volatile Mars-Uranus energy. I even wondered if it might 'burn off' enough of this negative energy that a Leave vote might not actually happen. I had my doubts, especially when the polls looked like they were moving towards Remain. But I nonetheless expected more manifestation of this significant Uranus and Mars energy around the time of the vote itself. The Leave victory was an clear expression of this dominant planetary symbolism.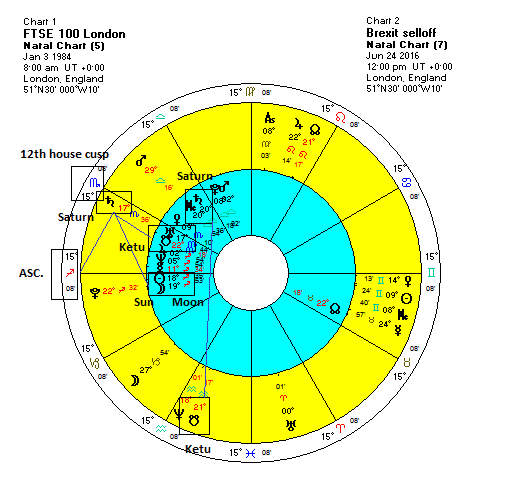 The British Pound has lost 12% of its value since Friday and is now trading at $1.31, its lowest level since 1985. The London FTSE index is down 8% as investors cut their exposure in an uncertain political and economic climate. We can see this decline in the horoscope of the FTSE 100 Index (3 January 1984). The critical transits here are likely Saturn (17 Scorpio) in the 12th house of loss conjunct Ketu (22 Scorpio) and in a near-30 degree alignment with the Ascendant (15 Sagittarius) and the Sun and Moon at 18/19 Sagittarius. Transiting Ketu (21 Aquarius) is also closely aspecting Saturn (20 Libra) during this late June and early July time window. Ketu-Saturn transits are often bad for stocks.
Saturn is retrograde throughout July so that could be a drag on UK stocks as it remains more or less stuck in the middle of the 12th house of loss. I would think it is likely that the FTSE will fall further in the days ahead.
Weekly Market Update
Stocks fell across the world last week following the Brexit vote. After rising for most of the week, US stocks ended more than 1% lower on the week after Friday's plunge. The Dow ended the week at 17,400. Indian stocks also lost ground as the Sensex ended 1% lower to 26,397. This bearish outcome was in line with expectations as I noted in last week's
market forecast
that we could get some gains in the first part of the week but the late week looked bad given the entry of Uranus into Aries on Brexit day.
US and European stocks are now sharply lower in Monday trading. This extended decline is also not surprising as I had expected more downside this week ahead of the Mars station at 29 Libra on Wednesday and Thursday. I suspect we could fall further this week as the full impact of this Mars-Uranus alignment is felt. The late week could see some gains, however, as Venus aligns with Pluto and Jupiter.
For more details and analysis on market trends for this week, this month and this year, please check out my weekly
MVA Investor Newsletter
. The newsletter is published every Saturday and includes extended discussion of US and Indian stock markets, as well as gold, oil and major currencies.