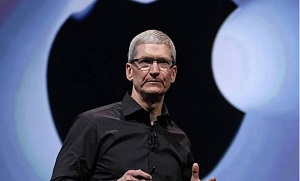 (10 May 2016)
It's tough times for Apple and its CEO Tim Cook. Its most recent earnings report showed the first quarterly decline of iPhone sales in its history. The disappointment in this iconic company persuaded many investors to bail out of the stock as prices touched new 52-week lows of $93. It had been trading as high as $130 in mid-2015. A few days later, Tim Cook gave an exclusive interview to CNBC's cheerleader Jim Cramer in an effort to bolster interest in Apple's supposedly bright future. However, critics saw the interview as a desperate PR move in the wake of the earnings failure and plunging stock price.
A quick look at the horoscope and we can see why Apple's stock price is falling these days. The transit chart for April 27th, the day the 1st quarter results were released which sent the share price down by 10%, show Mars and Saturn in the 11th house of gains. Since both of these planets are natural malefics, this is bad for a company's prospects. Mars (14 Scorpio) is very close to Mercury (16 Scorpio) there and highlights the late April period specifically as problematic for the share price. Also, transiting Mars comes under the near exact 3rd house aspect of Saturn (15 Virgo). This is the last thing an investor would want to see on the day that quarterly earnings are released since Saturn is a quintessential bearish influence.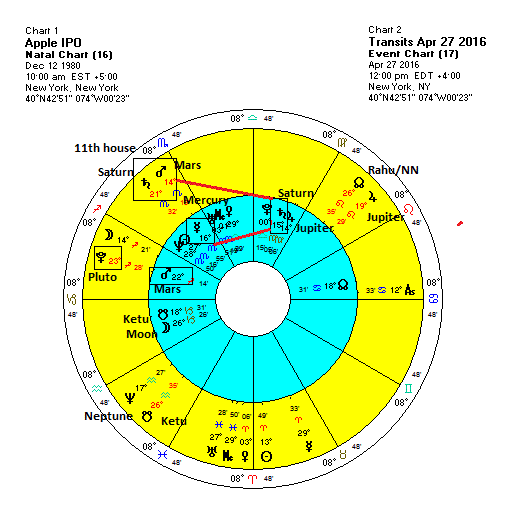 Both Saturn and Mars come under the trine 5th house aspect of Rahu (18 Cancer). Although neither are particularly tight aspects, they are unhelpful. Mars is now retrograding away from this Rahu influence but Saturn is backing right into it in the coming weeks. This should be another negative for the share prices that argues against any quick recovery for the stock.
Saturn will continue its retrograde station into July and August when it stations direct at 15 Scorpio. This will form an exact alignment with natal Saturn (15 Virgo) by 3rd house aspect. Moreover, it will conjoin natal Mercury (16 Scorpio) and exert more pressure on share price. It is very bearish and suggests Apple will tumble further by the summer.
We can see other afflictions. Transiting Pluto (23 Sagittarius) is hovering around natal Mars (22 Sagittarius) for much of 2016 and may well create more problems for Apple's share price in the months ahead.
Dasha Periods
Looking at the dasha periods, we can see that Apple is now in the Jupiter-Moon period. From my experience, it is the minor period which exercises a greater influence on the ups and downs in prices. The stock price will tend to rise in benefic periods and fall in malefic periods. From its natural qualities, one would think the Moon period would be bullish for Apple since the the Moon is a benefic planet. However, the Moon is conjunct Ketu in the 1st house. Ketu is usually a negative influence. Also, the sign ruled by the Moon is Cancer and it is tenanted by Rahu, another malefic planet. Therefore, the Jupiter-Moon period is less likely to see prices rise and we should not be surprised that Apple share prices have fallen since the start of the Jupiter-Moon period in August 2015. Since the Moon minor period lasts until December 2016, Apple's share price is vulnerable to more declines.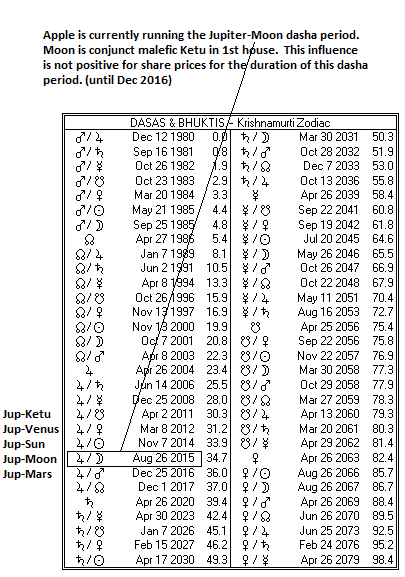 This negative dasha outlook is confirmed by the transit influences outlined above. Taken together, we can say that 2016 looks very challenging for the tech giant. Interestingly, the technical outlook also looks bearish as the current price of $93 is sitting on animportant support level. A break below this level would likely indicate much more downside.
The preceding dasha periods also roughly fit the price movements. The preceding Jupiter-Sun period saw Apple hit its all-time high of $130 in 2015. The Sun is placed in the 11th house of gains -- a very apt placement for a share rise. However, the conjunction with Neptune offers a warning: Neptune is associated with ideals and illusions that are often unsustainable. Apple peaked in mid-2015 and then fell back down towards $100 so the net outcome of the Sun minor period was essentially neutral. The stock price didn't go anywhere.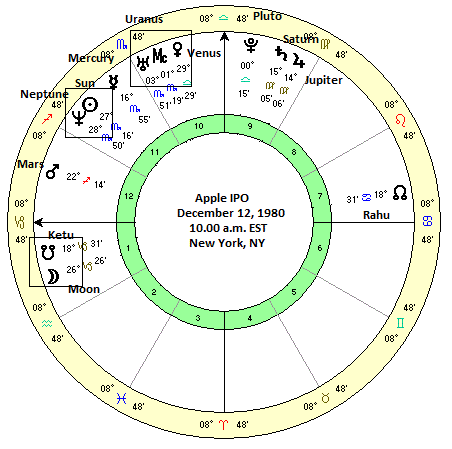 By contrast, the previous Jupiter-Venus period was more positive as the price rose from about $70 at the start of the period to about $110 at the end of the period. Venus is a benefic planet by nature and it is also well-placed in the natal chart since it is conjunct Uranus and the 10th house cusp (or "Mc").
And before the Jupiter-Venus period was the Jupiter-Ketu period. Ketu is a malefic planet, of course, but here it is well-placed. It is important to take note of the changeable nature of the Moon's Nodes, Rahu and Ketu. While they afflict other planets they conjoin, they are themselves improved by these conjunctions. That is the case here with Ketu as its potential is boosted through its conjunction with the Moon. In addition, it receives a close aspect from benefic Jupiter. Therefore, Apple's share price rose during the Jupiter-Ketu period from $50 to $70.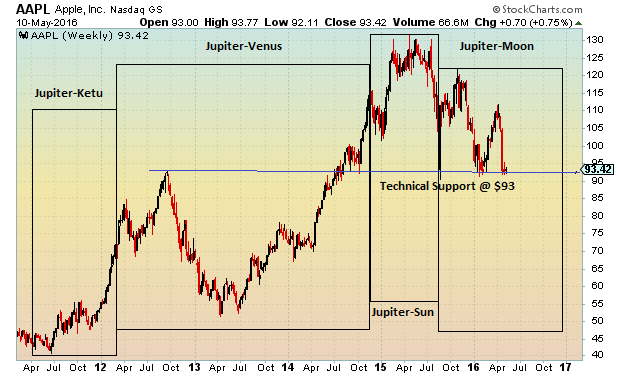 Even Tim Cook's horoscope (November 1, 1960; no time) looks troubled as transiting Saturn is conjunct his Venus and squares his natal Rahu. This looks like he will be preoccupied with losses and disappointment over the coming weeks. As an added burden, transiting Rahu will conjoin with natal Rahu over the next few weeks. Moreover, Pluto (23 Sagittarius) is opposite his Mars (23 Gemini) which suggests difficult situations involving frustration and stress, often as a result of power plays. Since Pluto moves very slowly, this could be a very difficult year for the Apple CEO.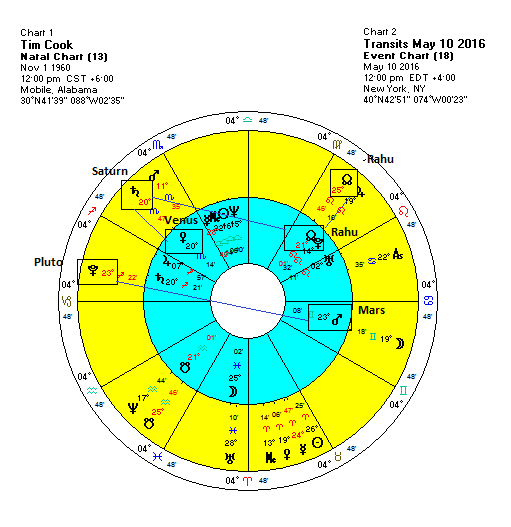 Weekly Market Forecast


Stocks generally declined last week on more concerns about growth in China. The Dow ended the week down marginally to 17,740 while India's Sensex lost 1% to 25,228. In last week's
market forecast
I thought gains would be fairly limited to the early week Sun-Jupiter alignment. As expected, we saw gains early and then some pull back later in the week on the Sun-Saturn alignment.
The early week has seen a nice bounce so far, presumably on the Venus-Jupiter aspect. We could see some profit taking during Wednesday and perhaps Thursday as Venus aligns with Saturn. However, the late week alignments of Sun-Uranus and Mercury-Venus-Pluto may correspond to some upside. So stocks could be fairly choppy for the rest of the week with moves in both directions. Next week looks more problematic as the Sun enters sidereal Taurus and opposes Mars while Mercury aligns with Saturn.
For more details and analysis on market trends for this week, this month and this year, please check out my weekly
MVA Investor Newsletter
. The newsletter includes discussion of US and Indian stock markets, as well as gold, oil and major currencies.