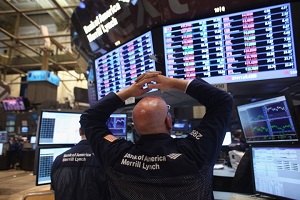 (15 December 2014)
Financial markets suffered a sharp decline last week as investors began to weigh the implications of the collapse of oil prices and the possibility of a wider global recession. The Dow lost more than 3% closing at 17,280 while the Indian Sensex lost almost 4% and finished the week at 27,350. Most other global markets also declined, with major oil producers like Russia and Canada suffering the biggest hits.
While cheaper oil may be good news for consumers who have more money to spend on other things, the financial fallout could be more negative as higher cost US producers may go bankrupt. Large institutional players who may have invested in the energy sector will feel these losses. This increases the risk of contagion spreading throughout other markets as leveraged investments go bust. As prices of these oil investments fall, margin calls go out and this forces liquidation of other assets in order to cover for the initial loss. This creates a chain reaction of selling as the bubble bursts. This is essentially what happened during the financial meltdown in 2008 and there is some danger here that history could be repeating itself. Oil prices peaked in the summer of 2008 and then plunged before the stock market crash. Once the price collapse started, oil speculators were forced sell to cover their losses and this created a contagion effect which spilled over into the stock market.
Interestingly, last week's sell-off correlated very closely with Jupiter turning retrograde (Rx) on Monday December 8th. Jupiter turns retrograde once a year and begins a four-month backward journey through the night sky. As the planet most associated with positive sentiment and expansion, the reversal of Jupiter's direction is sometimes connected with market reversals and weakness as the planetary outlet for optimism undergoes a shift in its inherent qualities.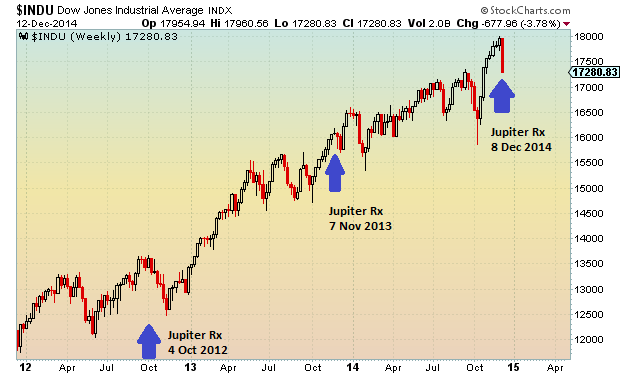 In previous posts, I had suggested that the chances for decline around this Jupiter Rx phenomenon were greater, especially in the context of this vastly overvalued stock market. The chart above shows how some previous Jupiter retrograde stations may have correlated with market moves. To be sure, the correlation is not overly strong or long term in its effects. The 2013 Jupiter Rx station only manifested as a brief two-week pause in the rally before stocks again climbed higher. The 2012 Jupiter Rx station seemed to be more closely connected with an interim high after which stocks fell for more than a month.
So there is some evidence to suggest that the current 2014 Jupiter retrograde station will also produce some kind of correction in most markets although it is unclear how long it could last. As always, we have to consider other factors that enter into the overall picture. I discuss these other factors in my weekly financial newsletter.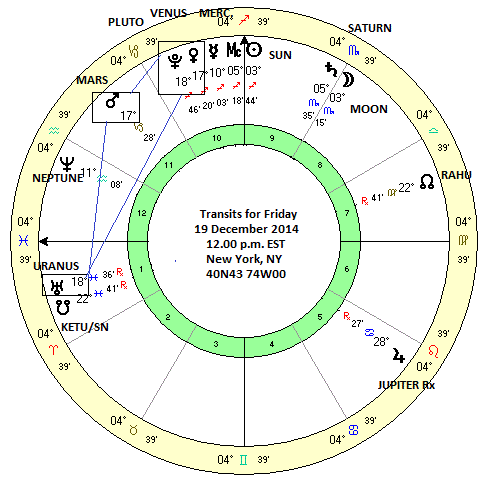 The planets this week look most potent towards the end of the week when Venus will closely align with Mars, Uranus and Pluto. This alignment is closest next weekend but we could see some effects on Friday. Mars is usually bearish but the presence of Venus in the mix means that the outcome is more open-ended. A larger move is perhaps more likely as an event outcome. The early week seems more negative (and Asia has opened in the red at the time of writing) as Mercury aligns with Saturn. The Sun's entry into sidereal Sagittarius on Tuesday could bring a temporary calm to the stock market, however.