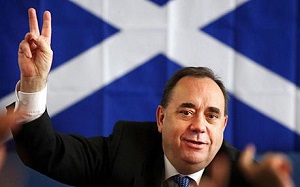 (14 September 2014)
The people of Scotland are on the verge of making history this week. On Thursday, they will vote on whether they will become an independent country or remain part of the United Kingdom. Under the leadership of First Minister Alex Salmond, the "Yes" side has enjoyed considerable gains in the popularity in the past weeks. Recent polls now show about a 50-50 split for Scottish independence. The gains for the independence side has brought about a vigorous response by pro-Union "No" supporters including intensive campaigning by the leaders of all four UK political parties. The vote will likely be very close but which side will win?
Based on my understanding of the key astrological influences at the time of the referendum, I think the chances are high that Scotland will vote to remain in the UK. There are a few angles one could take in answering this question, but let's focus on the chart of pro-independence leader Alex Salmond. Born 31 December 1954 at 4.30 p.m., Salmond's chart is quite strong as one would expect. His 10th house Moon in Pisces hints at his ability to lead (10th house) people towards an idealistic vision (Pisces).
His talents in this kind of undertaking receives a huge boost from the very close trine aspect of the Jupiter-Uranus conjunction in his second house. Moreover, we can see that Jupiter was extra-powerful at the time of his birth since it was at its highest degree of exaltation (3 Cancer) according to Vedic principles. All of that good Jupiter energy could then be directed towards his Moon in the 10th -- a perfect signature for someone who is a popular representative and servant of the people (Moon). The cross-sign conjunction of the Moon with Mars gives him more energy to succeed in his tasks to lead and inspire the people around him.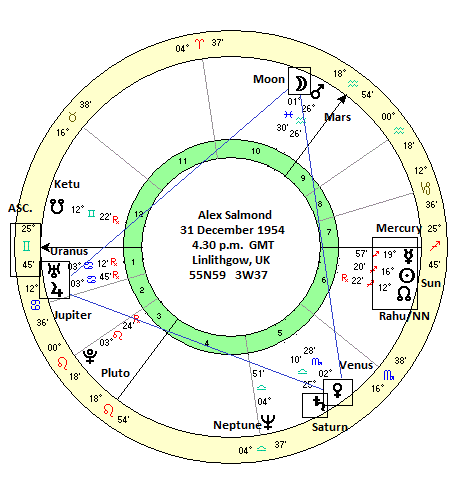 Even more remarkable is that his Venus (2 Scorpio) forms a near-exact Grand Trine pattern with Jupiter/Uranus and the Moon. Venus confers more good fortune on Mr. Salmond as it enhances his skills at making social connections and friendships. Jupiter's aspect to Venus also makes his 5th house more powerful since Venus rules Libra, the sign in the 5th house. The 5th house is associated with intelligence generally as well as the ability to give trusted advice. The 5th house is also said to be the most explicitly political of all twelve houses in the horoscope.
Saturn is also very strong in this chart as it is exalted in Libra in the 5th house of politics and is actually located precisely on the equal 5th house cusp at 25 Libra. This can give Salmond a very disciplined and logical approach to life and should be seen as a useful counterweight to the idealism of his Pisces Moon. Salmond's restlessness and desire to break with the status quo is perhaps indicated by the conjunction of the Sun and Mercury with Rahu (North Lunar Node) in the 7th house. Rahu tends to destabilize planets it is associated with as it guides individuals to innovative or sometimes radical action. Sun-Rahu conjunctions may also imply an inherent resistance (Rahu) towards authority (Sun) and that may well be the case here as Scotland vies to break with three hundred years of union with Britain.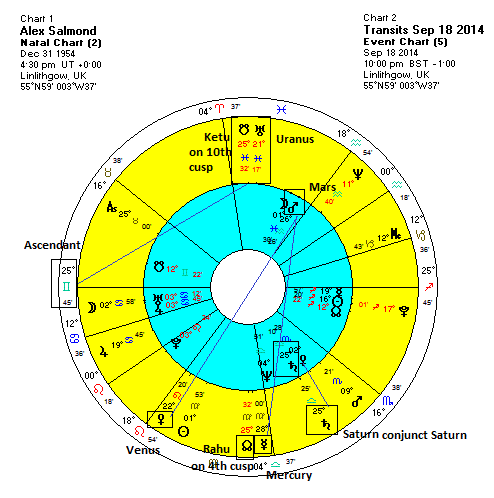 On the day of the referendum, we can see there are some very potent transits. Saturn will be almost exactly conjunct its natal position at 25 Libra. While Saturn is a malefic planet by nature, its exalted status here means that outcomes are more open-ended. But aside from the question of outcomes, the Saturn Return is associated with taking of responsibility for past actions and fulfilling one's destiny. Salmond has been a campaigner for independence for many years and his long struggle is reaching its apex now. His profile has never been higher. While the exalted status of Saturn is something of a plus for this transit, the potential problem is that Saturn rules the 8th and 9th houses in his chart. Neither of these houses are associated with gains or competition, however, so I am less inclined to see this Saturn-to-Saturn transit in positive terms. While not necessarily negative, it may only refer to the huge personal significance of this referendum.
Transiting Ketu and Uranus are in the 10th house and also underscore the importance of this time for him. These are both slow moving planets whose transit of the 10th house of status and career symbolizes how pivotal 2014 has been in Salmond's life. In this respect, Ketu (25 Pisces) is exactly conjunct his equal 10th house cusp and thus is an appropriate placement for a circumstance that focuses public attention towards him. The flip side is that Rahu is on the 4th house cusp, which is another indication of the intensity and instability of his current emotional condition as he awaits the public verdict on his life-long dream.
On balance, I think there are too many malefic planets involved in tight transits at the moment. Ketu isn't always bad in the 10th house and Saturn isn't always bad in its return to its natal position. But to have these two happening at the same time may be a bridge too far for Mr. Salmond. Venus will be a fairly close opposition to Mars on the day of the referendum which is usually not conducive with happiness, while Lagnesh Mercury by transit in Virgo will fall under Mars' 8th house aspect. For these reasons, I don't think Salmond will be satisfied with Thursday's result. While some other scenarios are conceivable with this chart, I generally expect the No side will win and that Scotland will choose to remain part of the UK.
Financial Markets Update
US markets slipped a bit last week as investors pondered the likelihood of higher interest rates sooner rather than later as the Dow closed at 16,987. In Mumbai, stocks inched slightly higher with the Sensex again closing above 27,000 as falling oil prices lessened inflation worries. I had been fairly neutral here given the mix of influences. We did see some midweek strength on the Jupiter influence while the late week Sun-Saturn alignment brought about some selling. As expected, gold and many commodities extended their recent decline.
This week again could see stocks move in both directions. Tuesday's Mercury-Rahu conjunction looks problematic so some downside is more likely at that time. However, there may still be some intermittent upside possible on various short-term Jupiter aspects throughout the week. And the Jupiter-Uranus aspect isn't due to peak until the 25th so that could provide enough optimism to keep the rally going a little bit longer.